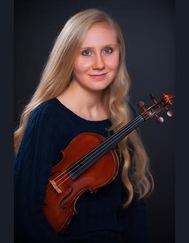 April 3rd, 2016: Larissa Freier
Larissa Freier is a native of Port Townsend, WA. She studies violin with Maria Sampen at the University of Puget Sound where she is pursuing a Bachelor of Music in violin performance with a minor in German language. Larissa is a
section leader in the Puget Sound University Symphony Orchestra and a member of the chamber music program, performing often in student groups and recitals as well as alongside faculty on the University of Puget Sound Jacobsen Series. In addition to a merit and music scholarship awarded for the duration of her studies
at the university, Larissa is also the 2015-16 recipient of the prestigious Edward Seferian endowment award, given each year to a deserving string player selected by the school of music faculty.

Larissa has spent her summers studying and performing at highly acclaimed music festivals around the country including the Bowdoin International Music Festival in Maine, the Brevard Music Festival in North Carolina, and the Kairos Chamber Music Lyceum in Washington. She has had the honor of performing onstage with renowned soloists such as Itzhak Perlman, Garrick Olson, and Vadym Kholodenko. Larissa has also participated in masterclasses led by Paul Kantor, Frank Huang, Aaron Berofsky, Jubal Fulks, Steve Miahky, and Sergiu Schwartz. Larissa began studying violin at the age of four at Harmony Preschool in Port Townsend. Throughout her childhood, Larissa took private violin lessons and played in school ensembles, as well as completing many years of piano lessons and partaking in a youth choir. Larissa's musical dedication continued throughout her high school years, during which she commuted weekly to Tacoma to participate in the Tacoma Youth Symphony Association and take private lessons with Maria Sampen and Timothy Christie. When she is not playing her violin, Larissa enjoys running, hiking, cooking, and spending time with her family, especially her dog.

---